Win one, draw one, lose two…
Looking back at the weekend, a little later than planned, and although the results weren't great, there were a few positives. Now, if we start with the negatives, it will probably feel less painful!
A thumping 3-0 defeat, in a fairly drab affair, saw the first team fail to achieve mathematical certainty of their place in the 2019/20 Hellenic League Premier Division. Antonio Gerrish scored twice for the visitors – who extended their unbeaten league run to 17 games – and Nathan Blackford got the other, in front of a crowd of 79 at Glevum Park.
The Veterans were the victims of an even heavier defeat, going down 5-0 against Shurdington Rovers on Sunday, with that victory putting Shurdy in pole position to secure the Gloucestershire FA Veterans League, Division One (North) title.
It does start to get a little more positive from here….
First, we had the Fifths securing an excellent 0-0 draw at home to Cashes Green, which keeps them up and around the top teams in Stroud League Division Six. Youngsters Alex Whiffen and William Cronshaw Jnr continue to impress for the side, with the blend of youth and veteran players proving a real success.
The result of the weekend went to the Thirds, who defeated their Quedgeley Wanderers counterparts 2-0, thanks to goals from Josh Webb and Niall Priday making the difference. One notable event was the selection of Ethan Ravenhill as captain for the game; the seventeen year old surely becoming one of the youngest ever players to captain a senior side.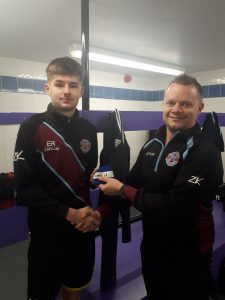 Ethan was congratulated on this achievement by third team manager, Dan Boon.
The other highlight of the weekend was the Tuffley Rovers U8s visit to our first team fixture. What a great bunch of youngsters and thanks to Jason Merrett for helping to organise their attendance at the game. Hopefully one or two of them will be playing at Glevum Park in ten years' time!