Charity remains at the heart of Rovers' kit designs
New sponsorship deals confirmed!
Hot on the heels of agreeing a new main sponsorship deal for their new first team kit, Tuffley Rovers have now confirmed the final design of their 2021/22 AthElite Sports match-day shirts for both of their Hellenic League sides.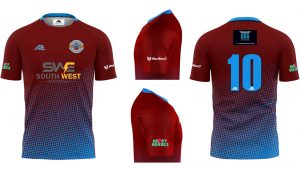 As revealed two weeks ago, Rovers will wear the logo of South West Electrical on the front of their shirts next season, but they have now been able to confirm JMJ Fabrications Ltd as the main shirt sponsor for their Hellenic League Division Two squad, with JMJ's Director, Jamie Gibbons, extending a long-standing association to the club through his backing of the Development Squad.
"We have a great relationship with Tuffley Rovers, who are literally very close to us, as they are on the doorstep of our own business" Gibbons confirmed. "Having worked with the club over the past 7 years we were keen to continue our support and sponsoring the Development Squad was an easy decision for us to make."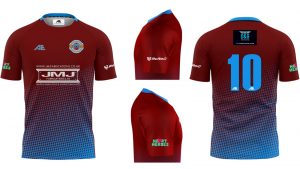 Rovers have also agreed a deal with Ruroc, who are global brand, based locally, who sell ski and motorcycle helmets and apparel around the world and will see their logo on the sleeve of all nine Rovers adult section teams. Visit Ruroc.com to learn more about their product range.
In addition D&G Contracting Ltd, another local business, providing a wide range of construction services across the UK, have added their logo to the shoulders of all adult kits, as part of a separate sponsorship deal. You can read more about D&G Contracting Ltd via their website.
The logos for each company will form part of the new shirt design for the 2021/22 season, sitting alongside the logo of local charity, Heart Heroes, who the club have adopted as their charity for the last 12 months and will continue to work with in the next season. The charity's logo will adorn one sleeve, alongside the new already confirmed that the change kit for all adult teams will be a green and pink design based around the Heart Heroes colours.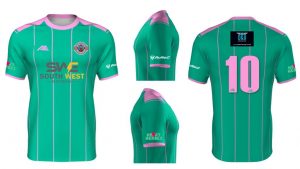 Kelly Cornish, the founder of Heart Heroes, was delighted with the club's decision to include the charity as part of the kit design.
"Heart Heroes is very honoured and excited to see Tuffley Rovers new sponsors on the new shirt, but also delighted with the sleeve design showing our own logo. We cannot thank Tuffley Rovers enough for their support and our heart heroes are looking forward to being able to wear the kit themselves."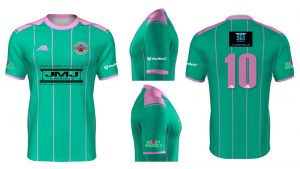 With all the sponsors now confirmed, the design of the new AthElite Sports branded kit is now complete for both Hellenic League sides in 2021/22.
"We're delighted to have sorted some really good sponsorship deals out so early", Club Secretary, Neil Spiller, confirmed. "JMJ and Ruroc are returning sponsors, so we're incredibly grateful for their continued support, which is invaluable to the club. Adding D&G Contracting and South West Electrical to the Rovers family means that we've not only been able to increase sponsorship revenue, but also form new relationships which we hope can be beneficial to all parties."
"We've had such a positive response to the new kit designs and, if I say so myself, the company logos all just seem to blend in perfectly", he added. "Including the Heart Heroes logo on the shirts was simply the perfect way to complete the design we intend to use next season."