Tuffley Rovers Tournament 2019
Saturday 4th & Sunday 5th May 
Our key objectives are for this tournament to be fun for everyone involved, as well as an opportunity for some quality football to be played on the Glevum Park pitch.
Download the official Tournament Programme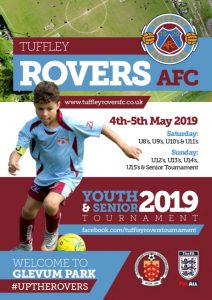 Programme contains
Messages from the Chairmen
Competition rules
Competition format
Tournament timings and fixtures
Tuffley Rovers Youth Tournament Programme 2019
Directions and parking
Feedback is that Glevum Park can be hard to find, if you haven't been here before! The formal postcode is GL2 5DT, although this can take you to either side of the ground and we'd like to avoid troubling our neighbours and would ask you to access the site from Lower Tuffley Lane if you are travelling by car.
For those familiar with Gloucester, the instruction is easy. Access Lower Tuffley Lane from the Bristol Road and use either our on-site car-park or park in the spaces available in Marshall Langston and then walk onto the site. The postcode for the McDonalds restaurant at the top of Lower Tuffley Lane is GL2 5DN and you can the reach the parking at Marshall Langston from that direction.
Please, please, please do try to avoid parking on Shakespeare Avenue, as this can cause disruption for local residents. In support of this, we will not be opening the entrance to the ground on Shakespeare Avenue during peak times.
Tournament knockout rounds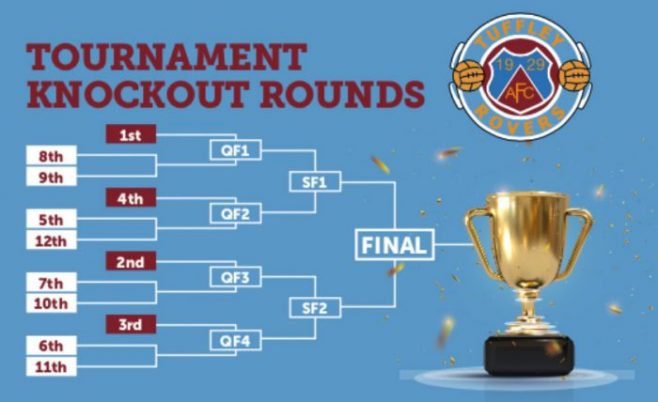 Facilities
Our facilities have been constantly upgraded over the past four years and if you are a returning visitor to the home of Tuffley Rovers, it is our hope that you are able to recognise the further progress we've made. If you're a new visitor, we hope you can appreciate what is on offer.
If you're worried about the weather (although the forecast is good!), we have plenty of covered seating and standing areas at Glevum Park.
There is covered seating for at least 200 people and a terrace, which will be adjacent to the top end pitches, that officially allows for 300 people to watch matches.
We have a total of eight toilets on sight, as well as showers, first aid and changing facilities.
The site also boasts a burger bar – serving burgers, bacon rolls and other hot food – and a licensed bar, where we will serve snacks, as well as alcoholic drinks and a wide range of soft drinks, too. As we have a licensed bar, we'd ask that people don't bring alcohol onto the site, so that we can ensure that we meet our legal obligations to keep the area safe for all visitors.
In addition to this, we'll have a range of ice creams and confectionary for sale, whilst any excess calories can be burnt off on bouncy castles and other amusements we plan to make available.
Play football. Love football. Support the players.
Share everything positive about the beautiful game.
Footage from last years tournament: