New kits revealed
NEW KIT REVEAL!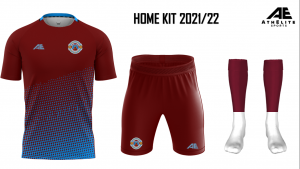 As exclusively revealed via Severn Sport today, we are now able to confirm our new Home kit design for 2021/22 and 2022/23.
Having worn Claret & Blue since their formation in 1929, Rovers' latest kit suppliers have come up with a modern design, which is the first kit produced by AthElite, as they look to expand the business started in 2018 by local Gloucestershire footballers Harlie Price, Matt Liddiard and Callum Preece.
Both parties are understandably delighted with the new deal, which will also see AthElite providing a full range of merchandise to be worn across the club's senior and junior sections.
"I'm delighted to have this partnership in place and also be the first club to wear the AthElite brand across both adult and youth sections" said Rovers' Chairman, Dan Boon. "We have already formed a strong working relationship with AthElite, who have been a pleasure to work with, and this is a deal that goes beyond simply launching the newly designed kits. They will also be providing us with an on-site and online club shop facility that will be a fantastic development for us."
The new kit will be worn by all Tuffley Rovers sides, in both the youth and senior sections, from the start of next season and Harlie Price was quick to confirm how pleased AthElite are with the new deal.
"We are really excited to be able to work closely with Tuffley Rovers Football Club", he confirmed. "The deal we have done will have huge benefits to the growth of our business, as well as benefiting a local football club, too."
Price was also very enthusiastic about the way in which the deal had developed, and the relationship that was now in place. "We approached Tuffley Rovers as we knew they are a forward thinking club, with a committee who are willing to try out new things and listen to ideas", he added. "From the moment conversations started it has been really positive and snowballed into a really exciting prospect. We are really excited to see what the future will hold for us all."
In the coming days the new partnership will make further announcements, including confirming their new second and third choice strips, as well as new sponsors and the development of a new club shop facility, hosted by their newest kit provider.
If you'd like to see the growing range of AthElite Sports products you can visit their website at www.athelitesports.co.uk.