Rovers open up sessions for pre-season training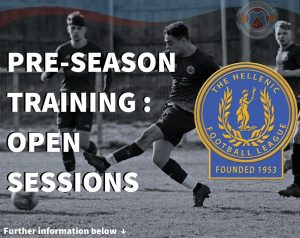 Tuffley Rovers' Hellenic League sides will return to pre-season training on Monday, 20 June 2022, starting at 6:30pm at Glevum Park. This will be Neil Mustoe's first pre-season campaign as the Hellenic League Premier Division side's manager and he is welcoming the return of last season's squad but has also opened up the session – and all future sessions – to players who think they're ready for Hellenic League football.
Further sessions – open to anyone looking to play for the club's first team or Hellenic League, Division Two (West) Development Squad – will then take place on Tuesday and Thursday of each week, as follows:
Monday, 20 June @ 6:30pm
Thursday, 23 June @ 6:30pm
Tuesday, 28 June @ 6:30pm
Thursday, 30 June @ 6:30pm
Rovers' pre-season fixtures then start on 5 July and sessions will continue on Tuesday and Thursday where they can be accommodated around fixtures.
If you'd like to join the sessions – and think you have what it takes to play in Hellenic League football – but would like further details, please register your interest via email to admin@tuffleyroversfc.co.uk (providing a contact telephone number).
#uptherovers