Sunday Summary (9/10 March). Monday edition!
A great weekend, despite some mixed results!
Our senior teams had a mixed weekend, with two wins and two defeats, but a win by the first team was a genuine highlight of the season, not just the weekend!
The Hellenic League Premier Division leaders, Brimscombe & Thrupp, arrived at Glevum Park on Sunday, less than three weeks after a  2-1 triumph over Rovers in the reverse fixture, top of the table. They left with without any points, as an inspired display from Rovers took Mark Pritchett's side to a 1-0 victory, courtesy of Jake Rhodes' 19th minute goal.
Highlights are available via Gloucestershire Grassroots Sport, courtesy of Mike Watkins. Photographs from the game can be accessed via Brian Rossiter's Flikr page.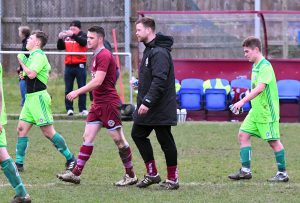 The Fifths continued their good form, too, with a thumping 4-0 win over Cotswold Rangers Reserves. Sixteen year-old Alex Whiffen scored again, taking his total to seven goals in eleven games, to add to a brace from another young player, Charlie Agg, and a first of the season for veteran, Iain Buckingham.
Buckingham was then part of the Sunday Veterans' side who went down 5-1 against Shurdington Rovers, at All Saints Academy in one of two defeats over the weekend. The other game saw the Fourths succumb to a 1-0 defeat against Cotswold Rangers' first team.
Despite the two defeats suffered by the club's sides, it was a good weekend given the excellent win against Brimscombe.
NB: Images courtesy of Brian Rossiter