Season tickets on sale – offering great value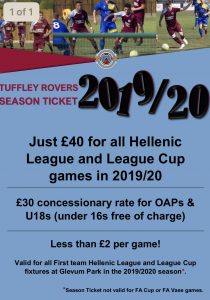 Season tickets for the 2019/20 Hellenic League season are now on sale – and at just £40 for the whole campaign, we believe they represent great value! It gets even better if you qualify for a concessionary rate ticket at £30, whilst U16s can sign-up for a season ticket free of charge!
Interested? Contact us via our social media pages or by e-mail at admin@tuffleyroversfc.co.uk.