v Harefield United (1 September 2020)
MATCH REPORT
EMIRATES FA CUP EXTRA PRELIMINARY ROUND
TUFFLEY ROVERS 2-5 HAREFIELD UNITED
TUESDAY, 1 SEPTEMBER 2020
For the third season in a row Rovers had received a home tie to get their competitive cup season up and running; and for the third season in a row they would host opponents from the Premier Division of the Spartan South Midlands League whose 2019-20 season had, like so many others, been abandoned because of the coronavirus pandemic.
Tuffley had faced Colney Heath at Glevum Park in 2018, losing 4-1, then North Greenford United in 2019, with the club from west London prevailing 2-1 in a replay after a 1-1 draw in Gloucestershire.  Now Rovers would entertain Greenford's near-neighbours, Harefield United, a club that had been founded way back in 1868. At the time the 2019-20 season was suspended, Harefield were in 15th position with 31 points from 27 matches and comfortably clear of being dragged into any relegation battle in their first season in the Premier Division since being promoted as champions of Division One in 2019.
Even though the 2020-21 Hellenic League season was yet to start, many cup-ties are a welcome change from playing the same opponents home and away in league games year after year. The downside is that it is often hard to find out much about your opponents until the day of the match dawns although that does of course apply in reverse to the other team as well.
Rovers' hopes of making progress in the most famous of cup competitions for clubs ended with a chastening defeat by their visitors. The match was effectively over by the mid-point of the first half, by which time the visitors had taken a two-goal lead which they never looked like relinquishing, even though Rovers fought back with spirit in the second period.
The visitors knew that this tie would have to be settled at the first time of asking and they played in such a positive manner that it was clear they had absolutely no intention of being satisfied with a penalty shoot-out after a drawn ninety minutes. That they won this match so convincingly was mainly due to how hard their front two worked with Lenny Farhall complementing the vastly-experienced Richard Pacquette, a man who can boast an FA Cup goal against Liverpool at Anfield on his c.v.!
Home goalkeeper Luke Merchant came charging off his line to collect the ball with barely a minute gone and then watched as a header from a free-kick cleared his crossbar a couple of minutes later.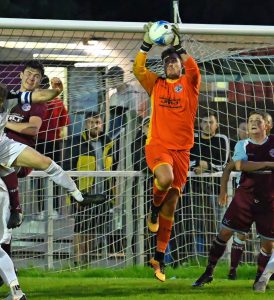 The hosts had chances of their own, and both Jack Beardsell and Miles Ferguson might have done better but both missed the target when well placed.
Rovers' inexperienced defence were being tested by the visiting forwards and although another cross from the right caused some panic in the Harefield penalty-area, it wasn't a surprise when the Spartan South Midland side took the lead in the 18th minute. Delightful skill on the halfway line by Farhall saw him move into the Rovers' area and, when his shot was parried by Merchant, Pacquette was waiting to drive the ball into the net. Shortly before this opening goal, home defender Toby Lawrence had received a yellow card for deliberately handling the ball but fortunately for him the resulting free-kick came to nothing.
It would quickly get worse for the hosts. Harefield 'keeper Jacob Ballheimer made enormous ground with his clearances all evening and one such clearance was flicked on by Pacquette's head to leave Farhall with only Merchant to beat; and a delightful chip saw United double their lead.
Joe Shutt dragged a shot wide as Rovers tried to get back into the game but their defence seemed constantly under pressure due to the speed and variety of Harefield attacks and United scored again when defender Harry McCorkell fired in a ferocious shot from thirty yards which flew past Merchant like a guided missile.
Just before the whistle blew to signal the end of the first half the yellow card count was equalised with Thomas Payne cautioned for tripping Joe Shutt.
The Rovers players were out early for the second period and it led to their most effective period of the match. Jack Beardsell had a shot which went wide of Ballheimer's goal and then the same player sliced another shot across the six-yard box with nobody there to capitalise on the chance. Lawrence stretched to meet a cross from the left but Ballheimer made a smart save. Then, as the pressure mounted, a goal seemed likely as well as deserved and it came when Warren Mann thrashed a fierce left-footed shot from twenty yards which flew into the visitors' net.
Harefield refused to see this as anything other than a consolation for the hosts and within minutes they had restored their three-goal advantage when the dangerous Pacquette drove the ball through Merchant from near the penalty-spot.
Both teams made substitutions as the match moved into its final quarter and it wasn't long before Pacquette sealed his hat-trick by steering a cross from the right into the unguarded bottom corner of the Tuffley net. A dramatic goaline clearance prevented a sixth Harefield goal but it was Tuffley who had the last word when Henry Birkett reduced the arrears with a strike which was very similar to Pacquette's third.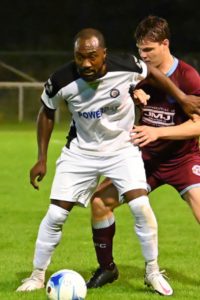 Five-two was perhaps slightly harsh on Rovers, who played pretty well in the second half but most of the damage had already been done in the first. Harefield deservedly went through to meet Leighton Town in the next round and they will fancy their chances of progressing if they show as much creativity in attack as they did at Glevum Park in front of an excellent attendance of nearly 150 spectators who saw a fiercely-contested and occasionally exciting cup-tie which definitely gave value for money.